Founded in 1972, SPI Health and Safety is a Canadian leader in occupational health and safety products and services which offers comprehensive and specialized solutions that include product distribution, fire protection services, consulting services and training.
View More
PREVENTION IS ABOUT TEAMWORK
As we all know, occupational health and safety is the shared responsibility of a large number of players within a company: senior management, human resources, maintenance, production, purchasing… that is why SPI Health and Safety works closely with each one of them to elaborate the most efficient and appropriate solutions for your work environment and associated risks.

OUR MISSION
SPI Health and Safety's mission is to be the single, most valuable partner for companies that value health and safety in their work environment.

Companies today are undeniably concerned about their employees and their development, but first and foremost about protecting them against the dangers associated while performing their tasks.

Danger: Developing a high level of awareness of dangers associated with their business sector.

Innovation: Developing innovative solutions focusing on customers' concerns.

Stakes: Fully understanding the stakes involved for our customers, and exceeding their expectations.

Complete Solution: Offering a complete solution – services, products and logistics – to provide optimal assistance to our customers.

WHAT MAKES US UNIQUE
Comprehensive and Customized Solution
SPI Health and Safety offers comprehensive solutions for occupational health and safety which comprise the company's culture, processes, equipment and employees. A customized approach will be proposed for each project from our wide range of products, services and trainings.

Specialized Expertise
SPI Health and Safety employs a team of skilled experts that can resolve complex problems requiring strategic analysis, and cutting-edge knowledge. Each of our teams are leaders in their respective field.

Dedicated and Friendly Service
SPI Health and Safety is first and foremost an experienced team that is totally committed to preventing workplace accidents. By establishing a partnership with companies that have occupation health and safety at heart, our team aims to efficiently respond to our customers needs. Through our branch network, our customer service center and our website, SPI Health and Safety has built a straightforward system to place orders.

Peace of Mind
With a noteworthy efficiency, our well-performing company ensures trouble-free delivery that lives up to your expectations.
View More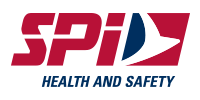 Company Fundraising Status